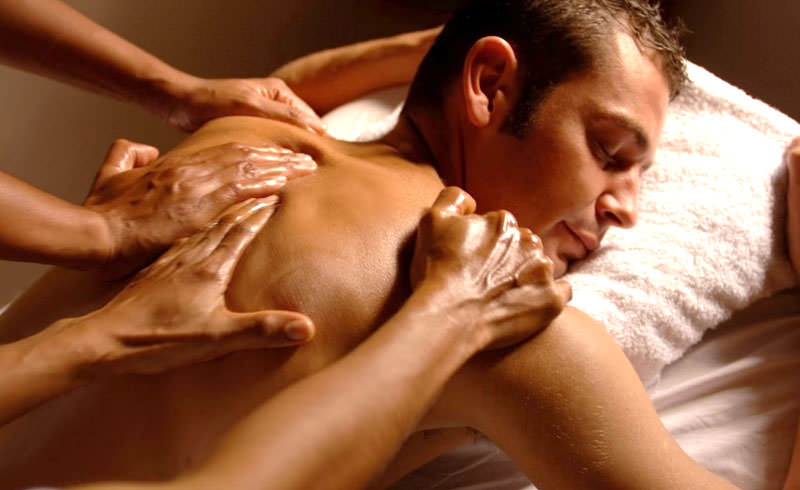 An Erotic Four Hands Massage is a specialized and sensual variation of the Four Hands Massage, where two professional massage therapists work in unison to provide a deeply intimate and arousing massage experience for the recipient. This type of massage is designed to not only induce relaxation but also to explore sensuality, arousal, and heightened pleasure.
What are the Benefits of a Four Hands Massage?
Enhanced Sensual Pleasure: The primary aim of an Erotic Four Hands Massage is to provide a deeply arousing and pleasurable experience. The dual stimulation from two therapists can intensify sensations and create a heightened level of pleasure.
Stress Reduction: Like other types of massages, the relaxation and sensuality of this experience can help reduce stress and tension, providing emotional relief.
Intimacy and Connection: For couples, an Erotic Four Hands Massage can deepen the emotional and physical connection, encouraging a greater sense of intimacy, trust, and communication.
Body Awareness: The massage can help individuals become more in tune with their bodies and desires, fostering a positive sense of self-awareness.
Enhanced Libido: Some individuals find that this type of massage can boost libido and stimulate sexual desire.
Exploration of Desires: It offers a safe and consensual space for exploring and fulfilling sensual desires and fantasies.
Positive Sexual Well-Being: Engaging in sensual and erotic experiences in a consensual and respectful manner can contribute to a positive sexual well-being.
It's important to approach an Erotic Four Hands Massage with care, trust, and consent. Clear communication and an understanding of personal boundaries are crucial. This type of massage is a personal choice, and it may not be suitable for everyone. Individuals and couples should decide together whether this type of experience aligns with their preferences and relationship dynamics.